Electronic Signature
The impression plugin allows organizations to sign their documents electronically using a combination of authentication mechanisms including One-Time-Passcodes, fingerprints and handwritten signatures.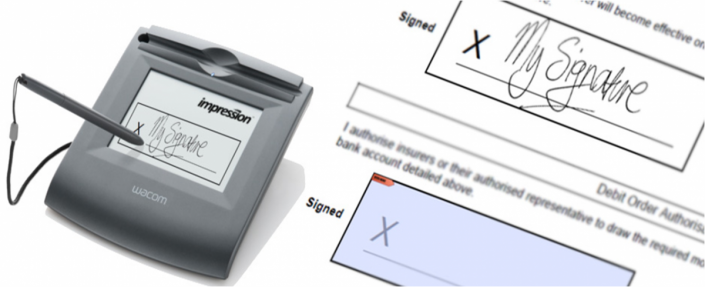 When signed, the documents (along with their data) are locked down securely in an Adobe PDF using digital certificate technology that disables further editing of the document and checks whether it has been tampered with. During signing, impression captures biometric details of the signatories to ensure their validity can be proved at a later stage and this is stored together with the document ensuring that the transaction data as well as the contextual signature data are indivisible.
By integrating electronic signatures into your business processes and existing workflows, your organization will save valuable time that was spent previously waiting for documents to be printed out, signed, scanned or faxed and then recaptured. Eliminating the masses of paper previously printed, stored for a period of time or in some cases lost, has also proved that impression will save your organization money.
Feature-rich
Plugin for Adobe Reader and Acrobat Professional
Non-Repudiation Through Biometrics
Attach Fingerprint Evidence & Enrollments
Customer Branding and Contextual Information
Print your Electronically Signed Docs
Supports Advanced Electronic Signatures (AES)
Embedded Timestamp and Revocation Checks
Contact Mellon to discuss how impression can fit your business and security requirements.